GROWING VEGETABLES FOR HOME AND MARKET – A 2-day Agripreneurship Masterclass with Debo Onafowora
Have you ever desired to grow your own healthy fresh fruits and vegetables from the comfort of your home?
Ever thought of starting a home based gardening business to augment your income or even earn a full time income, but think it is impossible because you live in a rented apartment or in an urban environment with limited space, water and other farming niceties?
Do you wish to invest in an agro-scheme for profit, but don't know what to look out for as a guide or control measure before investing?
Are you in possession of a food garden in your home which is not growing well

and

yielding any meaningful value despite all your efforts on it?
Do you have just a small space of about a quarter of a plot lying fallow around and you desire to make money from the space via farming?
Do any of the above define you or someone you know?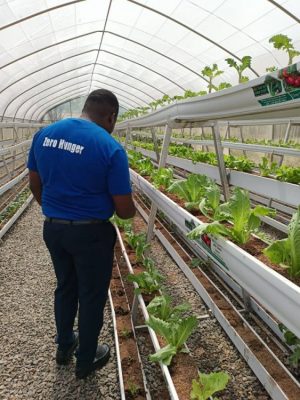 My name is Debo Onafowora. I'm Africa's most sought after Agribusiness Coach.
I pioneered the commercial application of soilless/ hydroponics technology farming in Nigeria.
I have consulted, managed and helped several big institutions like Afe Babalola University and Landmark University establish massive infrastructure in agriculture and I am presently the skill leader for Soilless and Urban farming at Federal University of Agriculture, Abeokuta.
I have trained over 12,000 Agripreneurs, won several awards in Agriculture, the most recent of which is the Federal government of Nigeria Leadership/ Productivity award. I am also a Fellow of ASHOKA, a Fellow of the Institute of Agribusiness Management, Nigeria (IAMN), among others.
In these 2 days, I will be sharing some insights with you on growing vegetables, as well as train you on how you can turn an ordinary garden to a regular food garden, and also make tons of money from it.
What you stand to gain…
👉2 days Intensive training with Debo Onafowora
👉Access to free coaching and mentorship from Debo worth 50k
👉An e- version of my Agripreneurs book or hard copy if you can pick up in Lagos, or pay shipment.
👉Deep insight into agro-investment and financing.
👉Discounts on all of Bic Farms' products and services.
👉Free video download on Fodder Production with deep insight.
Venue: Facebook and Zoom
Date:May 1st and 2nd 2021
Cost: Non-refundable fee of N10,000 N5000 (50% off if registration is between now and 25th April 2021. N10,000 after) to GTB, 0533593722- Bic Agribusiness Consulting.